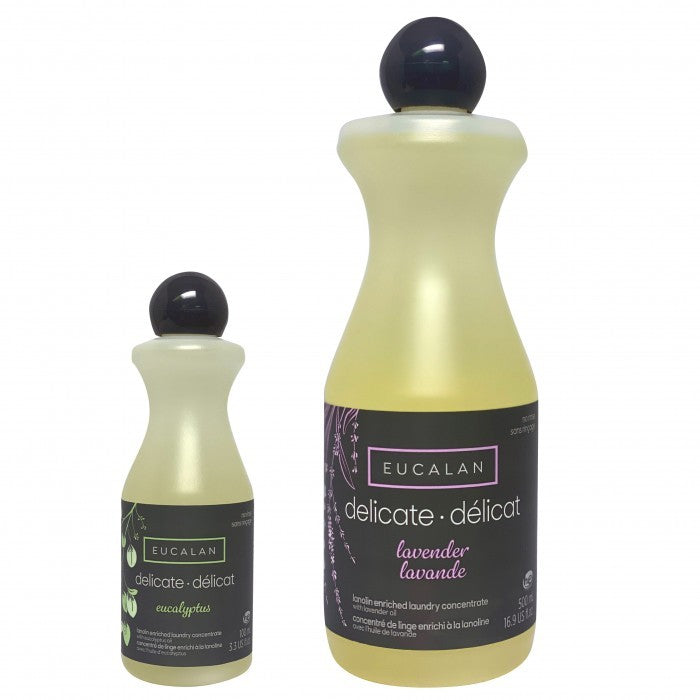 Eucalan - Wool Wash - Small
Eucalan - Wool Wash - Small/100ml
Eucalan is a Delicate Wash that is non-toxic, biodegradable, and free of bleach, phosphates, synthetic fragrance and dye. Eucalan is pH neutral and is packaged in an easy to recycle, dye free hdpe plastic bottle. Eucalan is scented with essential oils of eucalyptus, lavender, grapefruit and is also available in natural (unscented). The lanolin acts as a natural conditioner, keeping fibres supple and reducing static.

The Basics
How To Use Eucalan
Eucalan Delicate Wash is perfectly suited to many items.
Hand Wash:
Fill basin with tepid water (room temperature water, not hot and not cold)
Add Eucalan to basin.
Insert article to be washed and soak for 15 min. (minimum).
Squeeze article gently to incorporate water and soap through fibres.
No need to rinse.
Pull article out of water and gently squeeze out excess water. Do not twist or ring.
Follow drying instructions below.
Machine Wash:
Front Load Machine:
Select Rinse and Spin or Hand Wash/Delicate cycle. Cold or tepid water.
Add Eucalan** to the softener drawer.
Load articles into machine and start cycle.
Follow drying instructions below.
Top Load Machine:
Select gentle cycle and add cold water.
Add 2 or 3 capfuls of Eucalan to machine.
Stop machine. Load washables and squeeze gently to saturate.
Allow to soak 15 - 30 min. (minimum).
Gently squeeze articles again.
By-pass rinse cycle.
Spin water out.
Follow drying instructions below.
*Use 5mL/1 tsp per 4L/1G of water (more for heavily soiled items)
**Use 15-30mL/1-2 Tbsp. per load (adjust amount based on size of load)
Drying:
Important: Dry all items out of direct heat and sunlight.
Lay knit articles flat on clean dry towel. Roll article in towel to remove excess moisture. Lay flat to dry on drying rack or clean dry towel.